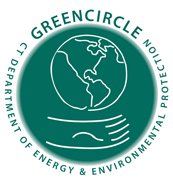 On October 18,2013 Environmental Office Solutions (EOS) of East Hartford, Connecticut, announced it has officially become a recipient of the 2012 GreenCircle Award.
The GreenCircle Award is given by the Department of Energy and Environmental Protection of Connecticut to recognize businesses, institutions, individuals, and civic organizations for exemplifying remarkable environmental awareness through energy conservation, transportation, pollution prevention or recycling as well as projects that promote natural resource conservation.
The GreenCircle Award displays Environmental Office Solutions participation in pollution prevention and recycling – ultimately improving the quality of life in not only the State of Connecticut but on an international level.
About Environmental Office Solutions
Since 1996, Environmental Office Solutions has diverted millions of used printer cartridges (and more recently used cell phones), from becoming landfill waste, by supplying these items for reuse in secondary markets.
Environmental Office Solutions provides income-generating, custom-tailored, comprehensive, closed-loop recycling and end-of-life asset recovery programs for large corporations and small businesses alike. Environmental Office Solutions is headquartered in East Hartford, Connecticut.