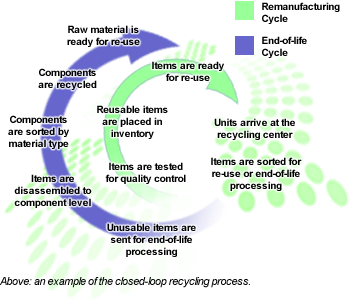 Founded in 1996 by Chris Stoddard and Mark Tosi, Environmental Office Solutions, Inc. (EOS) provides custom-tailored, comprehensive, closed-loop recycling and end-of-life asset recovery programs for large corporations and small businesses alike, federal, state and municipal governments as well as educational institutions of all sizes.
EOS is your turnkey solution for all of your e-waste recycling needs. As and R2 certified waste recycler, we specialize in inkjet recycling and resale, toner recycling and resale, as well as proper processing of used cellphones, used tablets, and old laptop and desktop computers. Over the years we've refined our processes, and can now handle any volume of product, for all of our customers e-waste recycling needs.
EOS is headquartered in a 40,000+ square-foot recycling facility located in East Hartford, Connecticut with an additional 40,000+ square-foot recycling, warehouse and distribution facility in Colorado. With bi-coastal facilities, EOS can quickly and efficiently process assets, thus providing more attractive pricing for customers.
Exceptional customer service is the cornerstone of our business. EOS has a responsive and knowledgeable team of recycling representatives with over 50 years of combined industry experience.
EOS has the expertise and flexibility to create an income-generating, custom-tailored recycling program for any enterprise.
Items We Collect
Fax and all-in-one's (MFP) cartridges
Printer cartridges
Each year, Environmental Office Solutions collects tons of printer-related recycling items such as empty laser toner and inkjet printer cartridges, fax toner cartridges, plus used cellphones, tablets, laptops and computers . We carefully inspect, classify and prepare each unit for repair, remanufacturing, reuse or responsible end-of-life disposal.
Recycling, remanufacturing or properly disposing of these items makes a positive impact on the environment—and our customers. To learn more about the services we offer, click here…
Environmental Office Solutions Commitment
EOS is committed to providing customers with environmentally sound, income-generating, closed-loop recycling solutions. EOS offers seamless, integrated and fully supported recycling solutions with:
Competitive pricing with our match-or-beat buy-back price guarantee
Substantial revenue stream
Fast and easy payment processing
Seamless operation
Comprehensive reverse logistics management
Full accounting and reporting
Exceptional customer service
EOS and the Environment
EOS is committed to preserving the environment by reducing non-biodegradable e-waste in landfills. We practice industry leading, closed-loop recycling measures and implement zero-waste policies, reclaim as much usable material as possible and follow earth-friendly, end-of-life processing for all collected items. EOS is R2:2013 (Responsible Recycling Practices), ISO 14001:2015 and ISO 45001:2018 Certified as well as ISO 9001 Compliant.
Get Started
Contact us today to begin an easy, income-generating recycling program for your enterprise. Environmental Office Solutions is committed to helping you help the environment.