Recycling and Asset Disposal
Your equipment's end of life does not necessarily mean its end of value. Environmental Office Solutions, Inc. (EOS) has the experience and flexibility to create an income-generating recycling programs for your enterprise. Review our match-or-beat buyback price guarantee and see how recycling with EOS is both good for your bottom line AND the environment.
EOS recycles millions of empty laser toner, inkjet, fax, copier and MFP (all-in-one) cartridges, used cell phones, tablets and laptops each year. We carefully inspect, classify and prepare collected items for remanufacturing or earth friendly end-of-life disposal.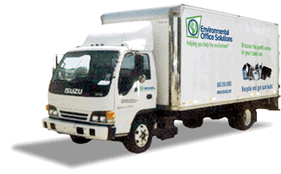 EOS offers customized recycling solutions to meet any need:
Return box programs
Return service label programs
Pallet programs
Truckload programs
Environmental Office Solutions will also buy back your OEM surplus, overstock and liquidation inventory.
We Secure Your Data So You Have Peace of Mind
When it comes to recycling or disposing of cell phones we realize these items may hold sensitive company data. That's why we securely handle the collection and proper disposal of each unit in a way that protects your data as well as the environment.
Reverse Logistics
EOS has the experience and flexibility to securely handle your reverse logistics needs for multiple or single locations. With our 40,000+ square-foot East-coast recycling facility and 40,000+ square-foot recycling, warehouse and distribution facility in Colorado, we easily manage end-of-life asset recovery and recycling programs worldwide.
Environmental Office Solutions Offers
Competitive pricing with our match-or-beat buy-back price guarantee
Substantial revenue stream
Fast and easy payment processing
First-rate, responsive customer service
Up-to-date accounting and reporting
Comprehensive reverse-logistics management
Seamless operation
Contact us now to begin an easy, income-generating recycling program for your enterprise. Environmental Office Solutions is committed to helping you help the environment.